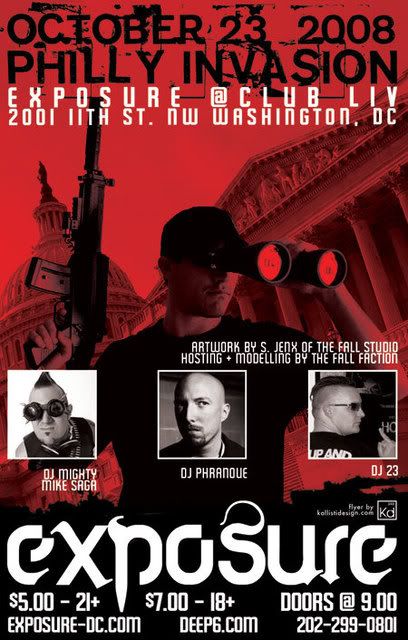 10.23.08 @ Exposure!

Exposure happens Every Thursday at LIV Nightclub
2001 11th Street NW Washington DC 20001
18+ event | cover $5.00 21+/$7 18-21
open 9:00 PM - 2:00 AM


PHILLY RE-INVASION!



DJ BOOTH RAIDED BY

DJ MIGHTY MIKE SAGA

DJ PHRANQUE

DJ 23



Promotions & Giveaways from: Metropolis Records








DJ MIGHTY MIKE SAGA

DJ Mighty Mike Saga Philadelphia PA Event promoter, Graphic Designer, Notorious Vesago Philly, NYC Dj known for keeping dance floors on fire till closing time. Mike Saga fell in love with dark music in the late 80's in Texas and never stopped his love for dark dance. He's guest DJed at events like Byte NYC, SMack NYC, MOTHERF*CKER NYC, QXT's Purge Events, Dracula's Ball, Nocturne, Dark Wave Productions events & dozens of underground events. He's a floor filler and pleaser with his sets of EBM, 80's Industrial, Synthpop.








DJ PHRANQUE

DJ Phranque has been a DJ for 12 yrs.After a few short lived weekly gigs he picked up his first residency at the Middle East Night Club spinning with DJ dV8. While there had the chance to work with bands like Electric Hellfire Club and The Wake.After a 2yr absence Phranque returned with a vengeance. He with DJ 23 and Chas Paris begin the weekly IJAM presentation of Fusion. There he has worked with bands like Suicide City, Assemblage23, Combichrist, Terrorfakt, Thrill Kill Kult, Stromkern, VNV Nation, Imperative Reaction, And One, and more.










DJ 23

DJ23 has been Dj'ing for 8 years now. within that time he has had several residencies as well as been a guest or re-occuring guest at such clubs as QXT's, haven, alchemy and many more, working with some of the best DJ's in the scene. he has also had the privlidge of spinning the first annual DARK CITY fest in scotland and SUMMER DARKNESS in holland. also within this time he has spun during shows and spun after parties for many bands from ABSURD MINDS to VNV NATION. recently he has been an active writer for SIDE-LINE for the past year and a half and recently started assaulting the net weekly with his philly commrade DJPHRANQUE and their internet radio show SEC:Tion:9.